Some facts of life are undeniable. Hot dogs aren't sandwiches, cereal first before milk, and bikes are faster than people. Or…are they?
Slick Tools founder Marshall Poland thought as much, until one fateful day when a group of thru-hikers kept pace with him while biking a Colorado trail. That's when the question first started nagging him: can a trail runner really beat a mountain biker?
As a mechanical engineer, his worldview trembled at the thought.
Desperate to make sense of it all, Marshall turned to his friend Louie — a big time trail runner — for answers. Pride got the best of them both and, instead of figuring it out, a competition was born: The Slick Tools Man vs. Bike Race.
That competition happened for the first time this summer.
A New Race for Mountain Bikers and Trail Runners
Slick Tools is very serious about its Field Testing Program and vetting all its new solar tool designs through Namasté Solar Electric. So, it's no surprise that the company was eager to sponsor a race that put the man vs. bike question to the test.
After a year of rigorous planning, the course was set for the Walker Ranch Loop trailhead in Boulder, CO — eight treacherous miles of brutal terrain once described as "a fairly challenging ride."
Marshall would be faced with an unrideable cliffside staircase with over 150 steps in the midsection of the trail loop. Would that be the ultimate equalizer?
Louie would be faced with an unrideable trail altogether, as he would be running on foot the entire time. Would his experience running technical trails like this close the gap enough to win?
With stakes at Olympic levels, Marshall and Louie set ground rules to ensure fair competition, safety, and, of course, entertainment. As a guide, they looked towards the proven rules of a timeless game known the world over: Mario Kart.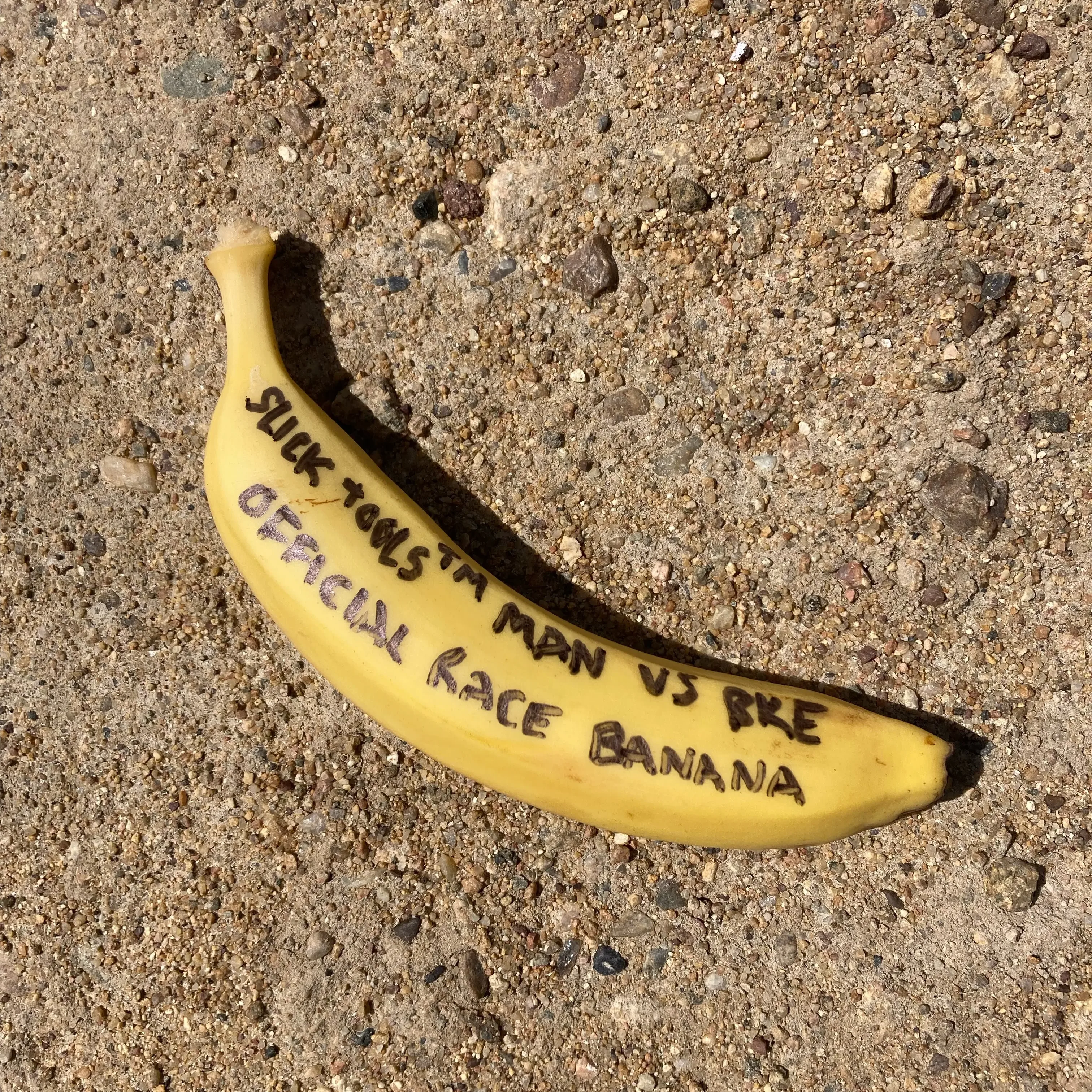 The Ground Rules:
Each participant received one (1) banana 5 minutes before the race starts.
Participants can drop or throw their banana peel once at any point in the race as an obstacle to their opponent, much like in actual Mario Kart.
When a participant comes across a banana peel, they have to pick it up and spin in circles for 20 seconds before continuing.
In order to pass another contestant, a Water Blaster Rule applies. The participant must "blast" the competitor they wish to pass with water (from a bottle, squirt gun, or other water blasting apparatus), at which point the blastee must stop all forward movement and allow the blaster to pass safely.
Course direction is decided by flipping a banana.
*All bananas were generously provided by Slick Tools.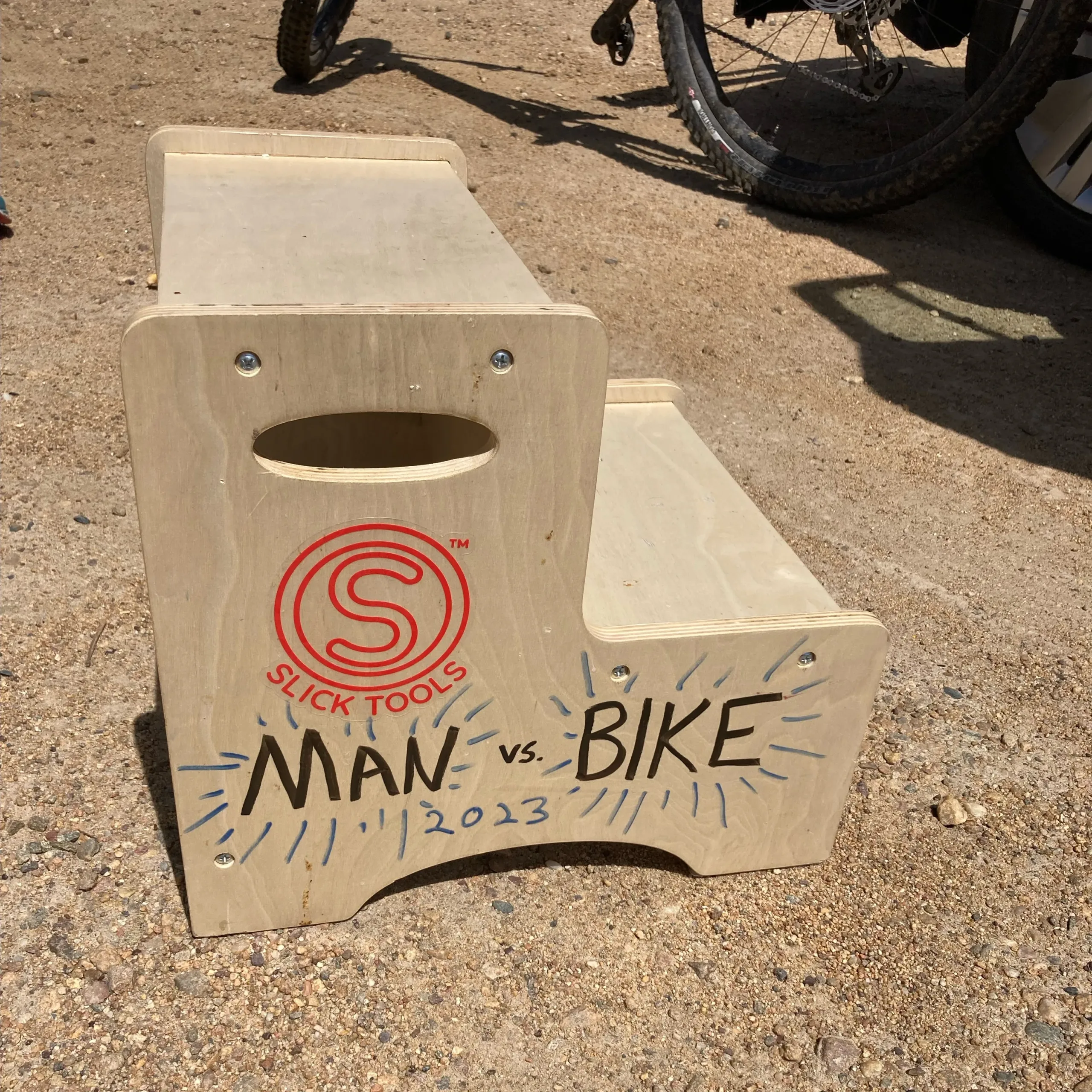 Race Day Arrives: Will the Bike Run Away With It?
Finally, race day arrived. Anticipation was at peak levels for one of the greatest man versus machine showdowns the Slick Tools blog has ever seen. Marshall and Louie spent the ride over to the race site getting in each other's heads with false strategies.
Weather was no impediment. Clear, blue Colorado skies and sunshine made sure that neither of them would be slowed by the elements — this would be a fair fight.
Each competitor was tense but resolute. Would there be endless water skirmishes? When is the ultimate time to fire off the banana?
It was time to find out. The impartial referee (Marshall's wife Lyriel) flipped the banana to decide direction. Clockwise.
With race start only moments away, Louie suddenly gobbled his entire banana down without hesitation. That might fly in a typical trail race, but "typical" isn't part of the Slick Tools dictionary.
Both lined up at the start and gave one final nod of respect before transforming into fierce competitors with no mercy.
"3-2-1-go!" As soon as the ref made the call they were off and, almost as quickly, the first banana hit the dirt. No mercy, indeed.
Cruising down the easy downhill start, Marshall didn't pedal more than a few rotations before dropping the peel on Louie.
The maybe 20 feet of downhill momentum that Louie was building was instantly taken from him. He stopped at the peel and spun in circles for 20 seconds.
The spinning clearly threw Louie off. He faltered slightly when going to pick up the peel before continuing on. The true competitor that he is, Louie shook the banana-shock off with a smile. He was just as determined to shock the world and do what many thought was impossible: outrun a bike.
The Trail to Victory
The gap, however, proved too much to overcome. Marshall cruised the trail to victory. Louie would not shock the world this time around.
Louie never recovered from the banana that Marshall threw (nor, he claims, the one he ate immediately before the race, which never settled right after spinning around). Marshall's strategic banana usage allowed him to relentlessly wield both bananas against his competitor.
All hope is not lost for trail runners. The bike beat the runner by only 12 minutes. For an eight mile course, that's closer that it seems. It's certainly close enough for trail runners to smell the sweet scent of redemption when next year's race arrives.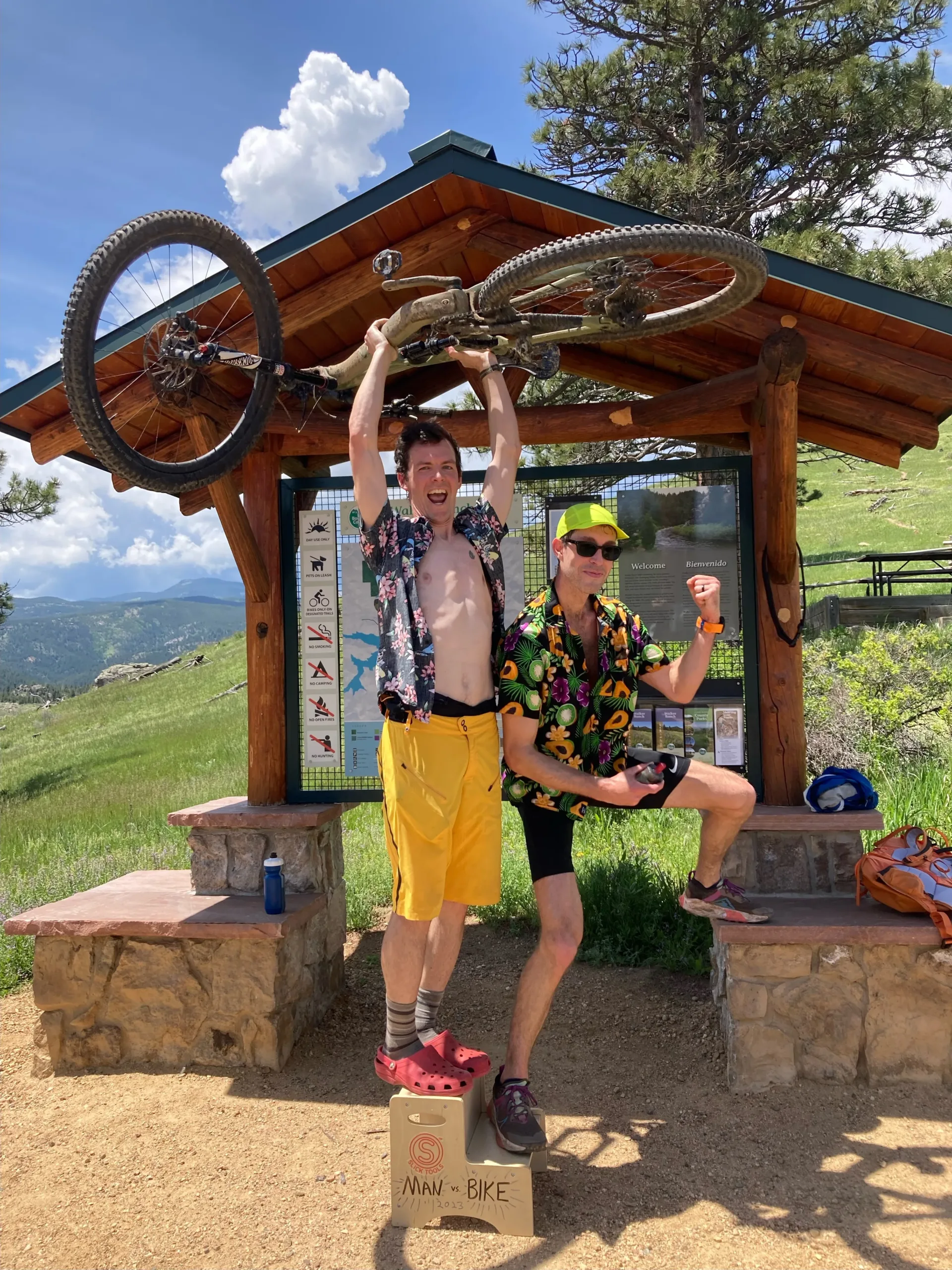 Interested in Next Year's Competition?
Follow Slick Tools on Instagram and LinkedIn for future updates and bonus content on the race. You can even send us a DM about it. The Slick Tools Man vs. Bike Race is only getting started, so stay tuned!
Read more about the Slick Tools Story and contact us if you're interested in learning more about how we can make solar better for everyone.